This March 15 – 19, join us in Ōtaki as we embark on a celebration of indigenous cinema, that will take audiences from Aotearoa to the Arctic
The annual Māoriland Film Festival 2017 is filled to the brim with some of the hottest Indigenous films on the planet. The programme includes multi-award winning features, documentaries and short films, two of which are nominated for Oscars. These works will all be presented in Ōtaki as part of the 4th Māoriland Film Festival: March 15 – 19.
2017 PROGRAMME QUICK FACTS
121 Features, Shorts, Documentaries, Workshops, Kōrero and other special events over five days.

8 New Zealand premieres of multi-award winning international Indigenous feature films.

100 films from 15 countries and 71 Indigenous nations

35 New Zealand films

A majority of film and videos created by Indigenous female directors (60%)
TICKETING INFORMATION:


Tickets available from March 1


Buy tickets online via iTICKET
Call iTicket on 0508 iTICKET (484-253)

All public screening tickets only $6
School screenings are $2 per student per session or $5 per student per day
Māoriland Closing Night Party is $45
Storytelling Tent sessions are free.
Door sales subject to availability, book early to avoid disappointment.
2017 FEATURE & DOCUMENTARY FILMS
The 2017 programme features 17 dramatic and documentary feature films from 8 countries and 23 indigenous nations. 
Of the 17 films, 8 are the New Zealand premiere of multi-award winning films. Be one of the first in Aotearoa to see these incredible films at only $6 a ticket! 
See the full line-up of feature films by clicking here.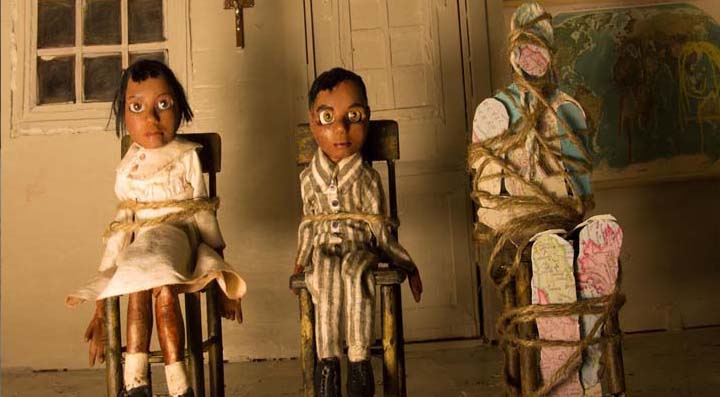 2017 SHORT FILMS
Māoriland Film Festival's 2017 shorts programme include colourful and stimulating tales from Aotearoa, the Pacific, and far-flung corners of the globe are a feast for the eyes, ears, and heart. They remind us all – in angry political times – how close we actually are to each other.
See the full line-up of short film programmes by clicking here.
2017 SPECIAL EVENTS
In addition to film screenings, the 2017 Māoriland Film Festival is packed full of special events including; The Māoriland Rangatahi Film Festival – a festival for young people curated by youth, for youth with two outdoor whānau screenings, Kōrero with industry professionals from the Sundance Native programme and imagineNATIVE, VR kōrero with INDIGILAB and Poi 360, a Storytelling Tent for intimate conversations between filmmakers and the audience and the return of the Māoriland Red Carpet Party with Special Guests CHOCOLATE BOX featuring Vanessa Stacey, Kirsten Te Rito and DJ Ayesha
See the full line-up of special events by clicking here.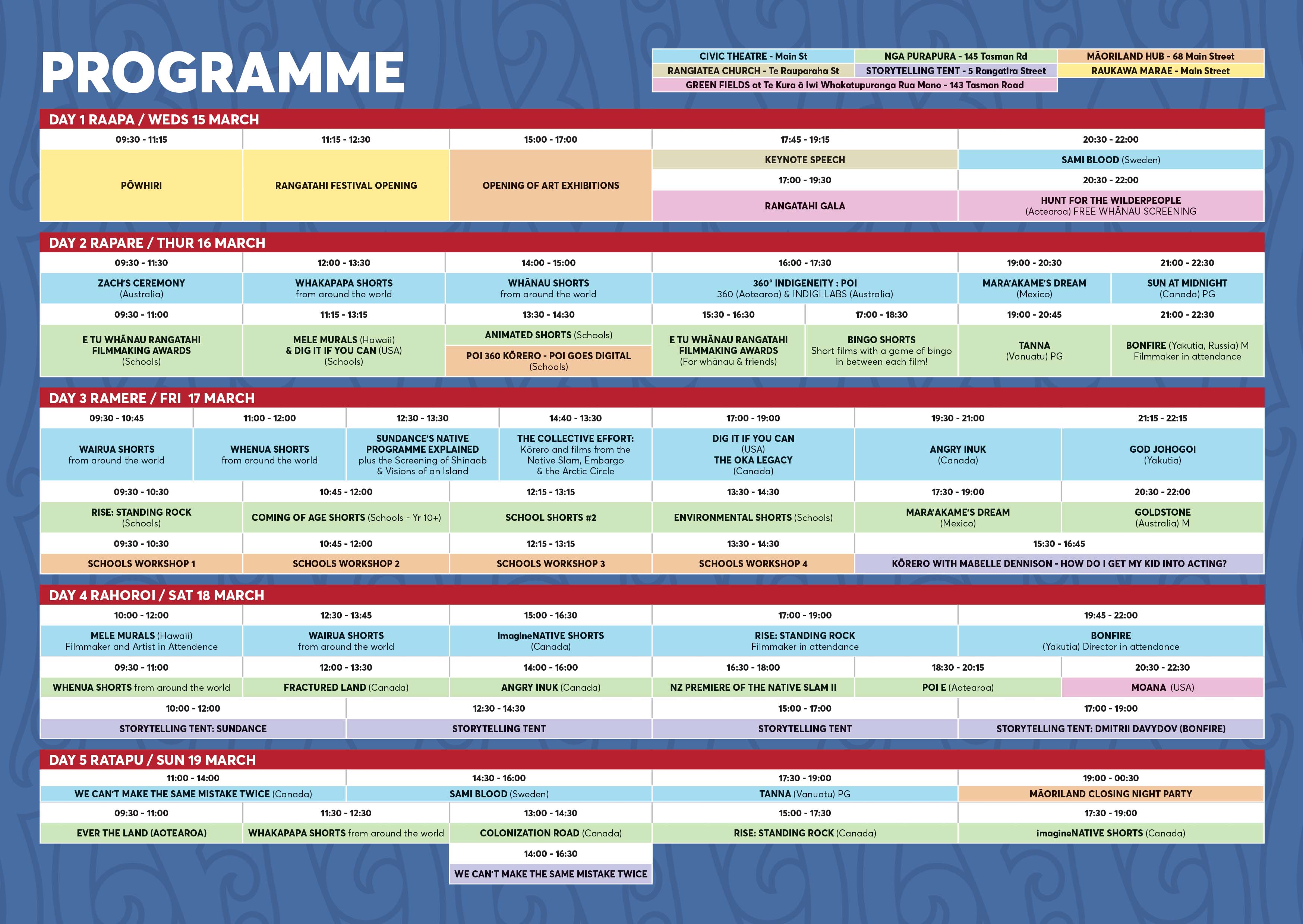 CLICK HERE TO DOWNLOAD PDF OF TIMETABLE
MĀORILAND RANGATAHI FILM FESTIVAL
In 2017, Māoriland Film Festival celebrates the first Māoriland Rangatahi Film Festival – a festival for our youth, curated by our youth. Since the beginning, our young people have played a key role in the Māoriland Film Festival; participating in the E Tu Whānau Rangatahi Filmmaking Awards, and acting as our Kai Hapai – the young people who introduce every screening at the festival. 
In September 2016, Ngā Pakiaka was formed. Ngā Pakiaka is a committee of five award-winning youth filmmakers aged 12 – 16 who have been with Māoriland since the beginning. Since September, Ngā Pakiaka have watched over 80 films from around the world, selecting films that excited and inspired them to screen for their peers. 
The 2017 Māoriland Rangatahi Film Festival includes shorts programmes, workshops, two outdoor whānau screenings (Hunt for the Wilderpeople and Moana), the E Tu Whānau Rangatahi Filmmaking Awards, a Rangatahi Gala and international food Kainival, the annual Māoriland Keynote Address with Julian Dennison and his mother Mabelle and a community art project with internationally recognised urban art, Estria Miyashiro. 
See the full Māoriland Rangatahi Film Festival programme by clicking here.
To volunteer at the 2017 festival please contact Tania Hakaraia
To stay up to date on all festival news, sign up to our mailing list here.