PŌWHIRI

The pōwhiri and welcome to manuwhiri and official guests of MFF2017 will take place at Raukawa Marae according to tikanga.

OPENING OF MĀORILAND RANGATAHI FILM FESTIVAL

Ngā Pakiaka is proud to present the first Māoriland Rangatahi Film Festival: A three day event within Māoriland that has been programmed by youth for youth. Come to Raukawa Marae to share Ngā Pakiaka's journey in film.
Ngā Pakiaka comprises multi award winning youth filmmakers: Maizy Kingsford Brown (13), Philadelphia Metekingi Kingsford Brown (16), Oriwa Hakaraia (13), Kaea Hakaraia (12) and Eva Hakaraia (14). Since October, Ngā Pakiaka reviewed over 80 films to select a programme that would excite and inspire the youth of Ōtaki and its surrounding communities.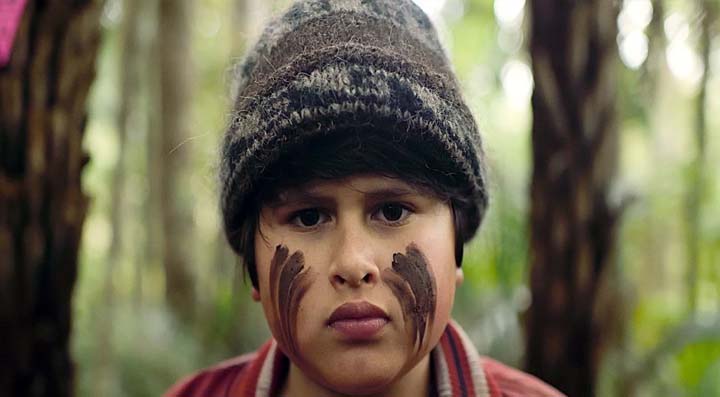 MĀORILAND KEYNOTE ADDRESS

Every year Māoriland invites a Māori filmmaker to deliver a keynote address at historic Rangiatea Church. This year our keynote speakers are Mabelle Dennison, and her son Julian.
For four years, Mabelle and Julian have attended the world's major film festivals because of their performances in short and feature films. HUNT FOR THE WILDERPEOPLE recently netted Julian his second Moa at the New Zealand Film Awards. In 2016 he was named one of the year's 'rising stars of Hollywood'.
Hear how this whānau from Naenae deals with the demands of Hollywood – and keeps it real.

OPENING OF MĀORILAND ART EXHIBITION 
The Māoriland Film Festival is delighted to host a number of Māori artists in a variety of practices at the festival this year. Mīharo Kē! features Sculptor Professor Robert Jahnke (Te Whānau a Rākairoa ki Ngāti Porou); Video and media artist Rachael Rakena (Ngā Puhi, Ngāi Tahu) and textile artist and fashion designer Kiri Nathan (Ngā Puhi, Tainui) while Circuit Screens feature the work of Salote Tawale, Bridget Reweti, Shannon Te Ao, Suzanne Kite and Sarah Hudson.
At this opening, the artists will be present to discuss the works. 
These exhibitions will be open for public viewing throughout the festival.

RANGATAHI GALA

Come on down to Te Kura ā Iwi O Whakatupuranga Rua Mano for the Rangatahi Gala which includes the annual Kainival of  international food stalls.
Don't forget to bring cash to grab some delicious kai from the stalls and enjoy the entertainment  – before finding your spot on the grass for the outdoor whānau screening of HUNT FOR THE WILDERPEOPLE.

E TU WHĀNAU RANGATAHI FILMMAKING AWARDS SCREENING FOR WHĀNAU & FRIENDS
This is your chance to share in the excitement that overflows at Ngā Purapura when young filmmakers from all over Aotearoa share their films with their peers. The theme this year is 'Through Our Lens'. Prizes are awarded for Best Overall Film, Best Use of Theme, Best Drama, Best Documentary, Best Actor and Best Editing. Come and see the filmmakers of the future!
The six core values of E Tū Whānau are:
Aroha giving with no expectation of return
Whānaungatanga it's about being connected
Whakapapa knowing who you are and where you belong
Mana / Manaaki building the mana of others, through nurturing, growing and challenging
Kōrero Awhi positive communication and actions
Tikanga doing things the right way, according to our values
Read more about the awards by clicking here. 
OUTDOOR WHĀNAU SCREENINGS
He koha arā: Gold Coin Donation for both screenings. Māoriland is an eco conscious event. Be kind to Papatūānuku – reduce, recycle, reuse and leave no trace.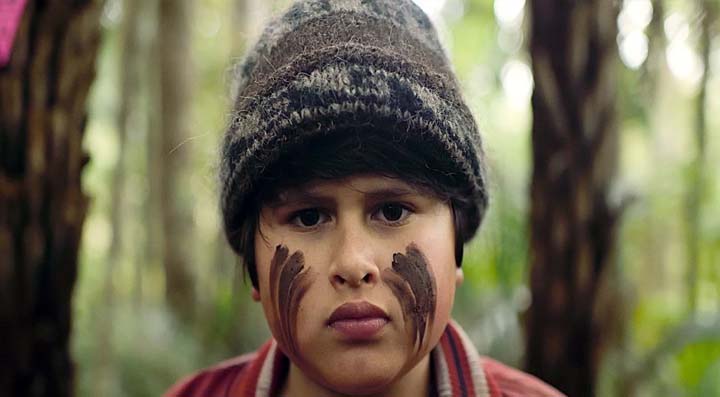 HUNT FOR THE WILDERPEOPLE

HUNT FOR THE WILDERPEOPLE cleaned up at this year's New Zealand Film Awards. Hardly surprising given the film is still packing cinemas around the world, and winning Audience Choice awards in distant places.
The star of the film Julian Dennison will present this outdoor whānau screening. Food will be available at the Kainival. Bring a chair or a bean bag and enjoy the fun!
In the event of rain – the screening will move to Ngā Purapura.

MOANA
The story of Polynesian heroine Moana who is on a risky voyage to save her people is turned into a rollicking adventure. The talents of Māori filmmakers like Taika Waititi, Rachel House, Jemaine Clement and Temuera Morrison joined forces with Pasifika colleagues Dwayne Johnson, Auli'i Cravalho, and Opetaia Foa'i. Together with Hollywood's best they have crafted a film that has brought smiles and pride to audiences everywhere.     
In the event of rain – the screening will move to Ngā Purapura.
He Wāhi Kōrero – A Place To Talk

360° Indigeneity: POI 360 (Aotearoa) & INDIGI LABS (Australia)
Poi 360 is an interactive digital documentary home for the poi. At first sight, the poi can be simply described as a ball on the end of a string. For Māori, it is the heartbeat of a nation and an extension of themselves. In this session, Poi 360 concept creator, Lanita Ririnui-Ryan will take the audience on a behind the scenes tour of Poi 360; the kaupapa, the process and the technology.
INDIGI LABS (Australia)
The vision of Indigi Labs is to create a future where Aboriginal and Torres Strait Islander Australians take a lead in science, technology and digital innovation. Indigi Labs are coming to Māoriland to share some of their peoples' 60,000 years of indigenous knowledge, along with science, technology and digital innovation in a programme called 'From The Boomerang To The Drone.' The Indigi Lab workshop will include learning how to fly a drone, recording video content rigged to a drone, as well as 360° VR film production.
"Indigenous peoples' use of the digital technology explores real connection to the natural world. It also considers  the economic opportunities that link our traditional culture knowledge which have been in place for thousands of years, to a digital reality. We understand that our youth are the future and only they can see into that future. It's up to us as elders and knowledge keepers to pass on information that will enable our youth to make the right choices for their futures." – Indigi Labs, Australia.
 
SUNDANCE'S NATIVE FILM PROGRAMME EXPLAINED plus the Screening of film from Sundance 2017 – Visions of an Island
Throughout the 22 years of the Sundance Institute's Native American and Indigenous Film Program's formal existence, it has supported more than 300 indigenous filmmakers at various stages of their projects.
The program has been instrumental in the career development of Taika Waiti, Te Whānau-ā-Apanui, Blackhorse Lowe, Diné (MFF2014, 2016), Sydney Freeland, Diné  (Drunktown's Finest MFF 2015) and Sterlin Harjo Seminole/Muskogee (Mekko 2016)
Maya Solis from the Native American and Indigenous Film Program joins us to talk about the Sundance Institute's  grants, labs, mentorships, fellowships and, the Sundance Film Festival.

THE COLLECTIVE EFFORT: Kōrero and films from The Native Slam, Embargo and The Arctic Circle
Watch films made through international joint efforts.  Some of the people involved in commissioning these collaborations along with the filmmakers themselves discuss the pros and cons of this indigenous collective dream to make films.
 
STORYTELLING TENT
During the festival there will be opportunities for informal and formal discussions between filmmakers and festival participants. The chance for debate and telling stories is valuable, and we provide a unique tent environment as a paepae for the stories that people wish to share.
To find out what sessions are on in the tent, visit the Māoriland Hub.

COLLISIONS

Experience the multi award winning Virtual Reality film: COLLISIONS!
COLLISIONS, directed by artist/filmmaker Lynette Wallworth, is a virtual reality journey to the land of Indigenous elder Nyarri Morgan and the Martu tribe in the remote Western Australian Pilbara desert. The Martu lived largely untouched by Western culture until the 1960's. Nyarri's first contact with Western culture came in the 1950's via a dramatic collision between his traditional world view and the cutting edge of Western science and technology, when he witnessed first hand and with no context, an atomic test.
In the words of Lynette Wallworth "VR will soon hit in a big way, very possibly to become ubiquitous. In the window of time that exists before then, I wanted to make a work that has protocols of meeting at its core. Nyarri's world is only available to me to visit, and in this work through the technology; that invitation is extended to the viewer. The agency in COLLISIONS belongs to Nyarri. When I put the camera down in front of him he said, "It has sixteen eyes." I replied that it has sixteen eyes and four ears. From that moment Nyarri become the one who decided what was seen and what was not to be seen; what was told and what was not told. The powerful sense of presence of VR makes everything personal. Nyarri knew who it was he was speaking to."

"That day Nyarri saw a thing he had no words for. It would be 20 years before he heard the words atomic bomb." said Curtis.
Curtis Taylor will present COLLISIONS at Māoriland.
Lynette Wallworth will be in the Storytellers Tent on Saturday at 1230 pm. Come and listen to the story of creating COLLISIONS. Limited to the first 20 people.

NATIVE SLAM II

The filmmakers asked for it!  So we are once again doing the Native Slam filmmaking challenge in the days leading up to Māorialnd. Indigenous filmmakers from around the world are put in teams of three,  given a budget of $800,  ten rules to follow, and just 72 hours to make a short film. 
Last year's NATIVE SLAM films have so far screened at five international film festivals. The aim of the Slam was to grow creative collaborations and relationships between indigenous filmmakers.
Come and see the latest batch of NATIVE SLAM films.
The NATIVE SLAM II has filmmakers from the Arctic, Australia, Burma, Tahiti, Samoa, Hawaii, Solomon Islands, Canada and Aotearoa.

MĀORILAND CLOSING NIGHT PARTY

The Māoriland Hub is the former home of the  iconic Ōtaki department store Edhouses.
In 2017 the space will be transformed into a multi purpose cinema, gallery and performing arts hub that will serve as a base for the ongoing activities of Māoriland; including filmmaking  workshops.
We mark the beginning of the Māoriland Hub  with our popular Red Carpet party.
Dress up in movie star glam to walk the red carpet, and be entertained by Chocolate Box featuring Vanessa Stacey, Kirsten Te Rito and DJ Ayesha.
Chocolate Box has spent 4 years building a reputation around Wellington and throughout Aotearoa, as a show not to be missed. These ladies have recently performed at Wellington Waitangi Day Celebrations, Wellington Jazz Festival, Homegrown, Tora Tora Tora, Sound Splash Festivals and were the opening entertainment for New Zealand Arts Festival 2016. With the combination of these ladies, you will be in for a night of laughter, style and a musical journey of Soul/Funk/HipHop/R&B/Jazz. Chocolate Box brings together great beats with the live element of two of New Zealand's most popular vocalists. Tickets are $45 and will sell out!
Please note: There are some fabulous hokohoko (opportunity/thrift) shops in Ōtaki. They have dresses and suits for anyone who may have forgotten to pack their own!
On the night, a prize will be given to the best outfit that cost under $20!
This Party is brought to you by Kono of Wakatū, purveyors of indigenous kai and beverages.
from March 1
Storytelling Tent Events are FREE and limited to the first 20 to arrive. 
Outdoor whānau screenings are by gold coin donation.