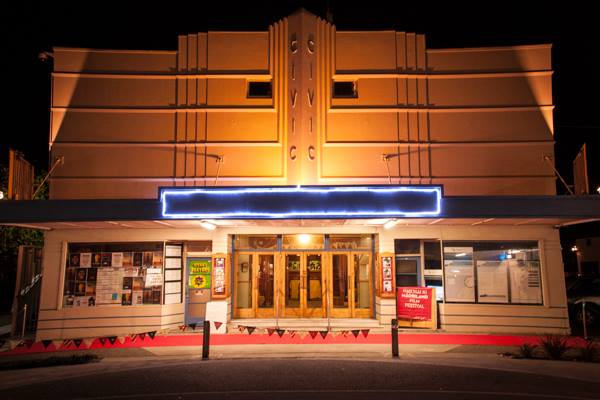 THE CIVIC THEATRE
MAIN STREET
ŌTAKI
"The Best Community Theatre on the Kapiti Coast"
MĀORILAND HUB
68 – 70 MAIN STREET
ŌTAKI
The Māoriland Hub is a home for the Indigenous, a home for the imagination, a home for ideas and conversations – he whare taketake, he whare tapere, he whare kōrero.
It is open year-round in Ōtaki Village showcasing Indigenous creativity and innovation through film, art, technology, kōrero and more.
A drawcard for visitors to the Kāpiti Coast, the Māoriland Hub is a vibrant space to create, learn and be inspired.
NGĀ PURAPURA
145 TASMAN ROAD
ŌTAKI
Ngā Purapura – Centre for Health and Wellbeing
Ngā Purapura is the home of Te Whare Oranga at Te Wānanga o Raukawa encompassing the health and wellbeing qualifications for both people and our environment.  It is a health and wellbeing centre for our community. 
Visitors during Māoriland Film Festival are welcome to enjoy other aspects of the facility while in Ōtaki including the Café and gym during open hours. 
We ask that visitors to the festival respect this facility as a centre for health and wellbeing, as such:
No alcohol or drugs are permitted on or outside of Ngā Purapura grounds (including the nearby school and Te Wānanga o Raukawa)

Visitors refrain from smoking or vaping outside the building, nearby school and Te Wānanga o Raukawa grounds

Please depose of any rubbish you bring in appropriately by using the bins provided
If you are attending a screening you are welcome to make use of the parking at Ngā Purapura and Te Wānanga o Raukawa.  During high volume screenings such as opening night, road marshalls will direct traffic.  For all other screenings and events, we only ask that you respect our clientele and students on campus and enjoy your time in Ōtaki, kia ora.
For more information on Ngā Purapura visit https://www.wananga.com/wellness-centre.html
RANGIĀTEA CHURCH
33 TE RAUPARAHA STREET
ŌTAKI
Rangiātea Church is the oldest Māori Anglican church in New Zealand.  Originally completed in 1851 under the direction of Te Rauparaha and English missionary Octavius Hadfield. The building was burnt down by an arsonist in 1995 and rebuilt reopening in 2003.
During the original construction in the 1840s, large totara logs had to be floated down rivers at nearby Ohau and Waikawa. The logs became the ridge pole and the central pillars of the church. The rafters, pillars and slabs were also made from totara.
The design of the church is unique in that it incorporates ideas from both English and Māori church design.
RAUKAWA MARAE
90 MILL ROAD
ŌTAKI
Raukawa Marae is the marae matua for Ngāti Raukawa ki te Tonga.
TE KURA Ā IWI O WHAKATUPURANGA RUA MANO
143 TASMAN ROAD
ŌTAKI