Māoriland will be remounted from September 24 – 27, 2020.
Covid 19 forced the closure of MFF2020 on day two in March however the Māoriland team carefully packed everything away including 100+ films from across the Indigenous world.
The MFF2020 "Remount" in September will be the first of a month of film festivals across Aotearoa. 
"Our aim is to give our community a much-needed boost by bringing as many visitors from across Aotearoa as possible to Ōtaki in September," said Festival director Libby Hakaraia.
The MFF has brought significant visitor spending to the Ōtaki and Kāpiti region since it began in 2014. And whilst the September edition will not include International filmmakers Māoriland will bring those filmmakers to the festival via digital technology.
"We hope that our community here in Ōtaki will get a huge boost from being able to gather together to watch film and likewise that our Indigenous filmmakers will be energised by the opportunity to have their films seen. We often say here at Māoriland that Indigenous cinema is healing and we know the world needs that more now than ever," said Libby.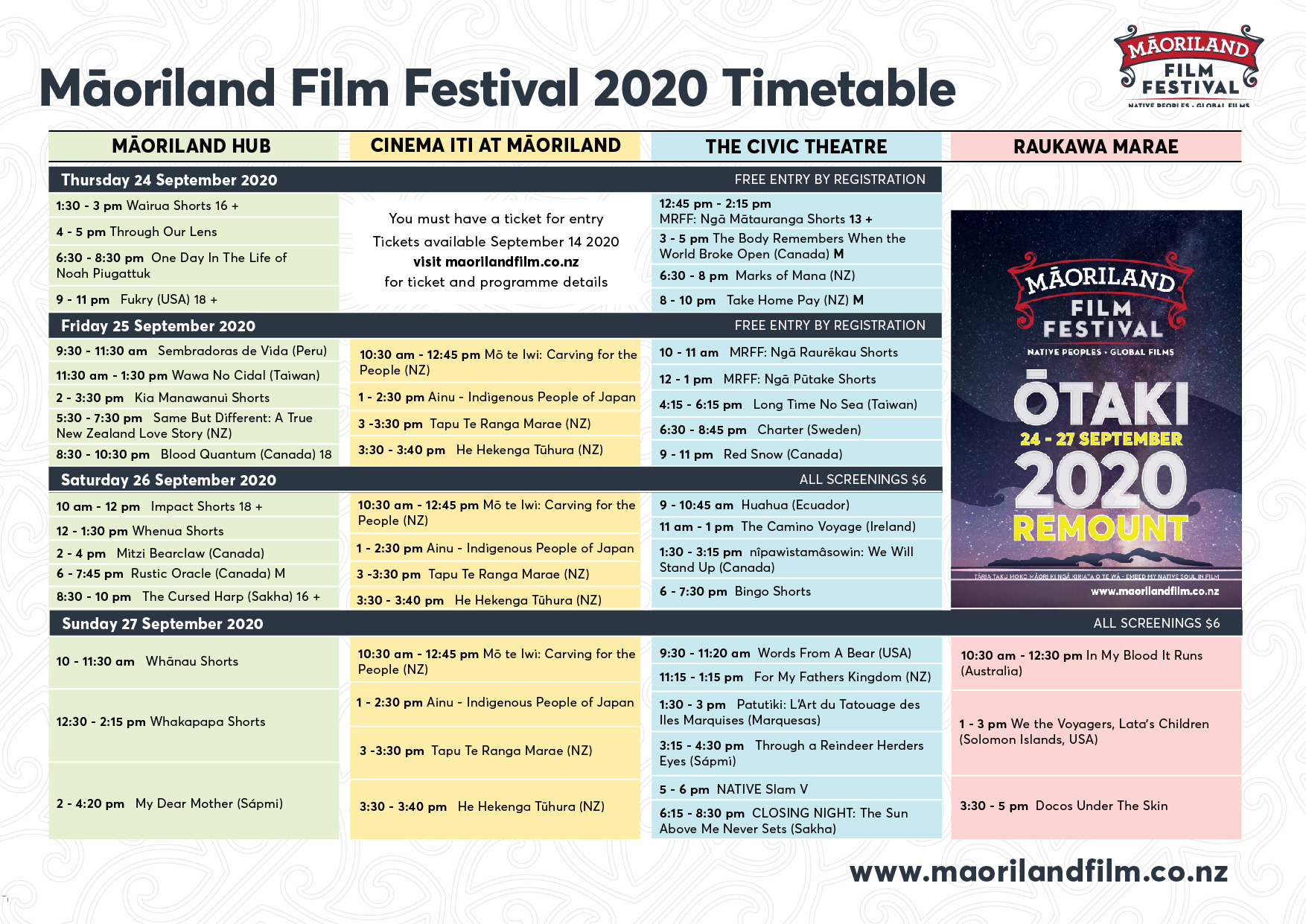 The announcement of the remounted MFF2020 is one of many exciting developments for Māoriland. During the lockdown, the team launched the production company arm and successfully applied for development funding from the NZ Film Commission for a slate of feature and short films. 
Māoriland Productions builds on the production efforts of Māoriland over the past seven years including the NATIVE Slam and rangatahi filmmaking and will see thirteen new Māori films including ten shorts and three features in production or development over the coming year. 
Māoriland Productions success was no easy task.  NZFC CEO Annabelle Sheehan said that a record number of 90 applications were received. "The number of applications indicates the importance of these funds to the industry during these challenging times.  Assessors were all impressed by the high quality of the businesses and projects pitched, making the decisions tightly debated. It's clear that New Zealand screen companies are ready to move forward with some great projects."
The establishment of Māoriland Productions is part of Māoriland's development pathway for rangatahi in Ōtaki and across Aotearoa to thrive within the film and creative technology industries. It heralds a new phase for Māoriland as an organisation and great opportunity for Ōtaki. 
"Within the next year Māoriland will employ a further 10 staff with four roles currently available. We are looking for self-motivated individuals to support the growth of Te Uru Maire – the Māoriland Rangatahi Strategy in three key areas, " said Maddy de Young, the manager of Rangatahi projects
Te Uru Maire unites film, creativity, innovation and technology to develop rangatahi for the future of work as story leaders, creatives and entrepreneurs. It is a vision to create high-value employment opportunities for the next generation within our own community, connected to the world. 
Details on all available positions can be found on the Māoriland website.