This Saturday, Aotearoa celebrates the 176th Anniversary of the signing of Te Tiriti O Waitangi. In Wellington, Te Rā o Waitangi celebrations are expected to be bigger than ever and Māoriland Film Festival will be right there to join in.
Te Rā o Waitangi kicks off at 12pm on Saturday 6th of February in Waitangi Park and is a day of kai, kapa haka and live music. This year there will be performances by Ngāti Pōneke Young Māori Club, Te Kura Kaupapa o Ngā Mokopuna, Grove Roots, Beau Monga, Jamie MacAskill with the The Māori Sidesteps and the legendary Ardijah.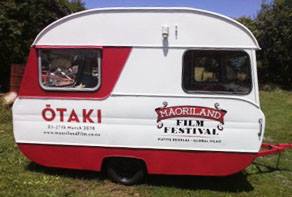 Māoriland Film Festival is excited to announce that the official Māoriland Film Festival Programme for 2016 will be announced on Saturday and will be available to view on site at Te Rā o Waitangi.
Māoriland's infamous Piri Pod will be on site at Waitangi Park accompanied by the Māoriland Film Bus! A unique, traveling film experience. From 12pm to 6pm the Māoriland Film Bus will screen a series of Māori short films on loop.
Come on down, watch some films and check out the programme!
ON SCREEN IN THE MĀORILAND FILM BUS
I'm going to Mum's
Directed by Lauren Jackson
Jacob is eight years old and his parents dress him funny. Stuck in the middle of a fresh divorce, he takes drastic fashion action to make himself heard.
Ross & Beth
Directed by Hamish Bennett
Ross and Beth is a drama about a rough-as-guts 70-year-old farmer who is forced to cope with the sudden death of his wife, and a teenage boy who becomes his unlikely saviour.
Lawnmower Men of Kapu
Directed by Libby Hakaraia
A boy witnesses the seemingly magic powers of his Aunties and the continuation of tradition.
Ahi Kā
Directed by Richard Curtis
A young girl must rely on her inner strength and spirit helpers to protect the sovereignty of her people.
Abiogenesis
Directed by Richard Mans
In this breathtaking science fiction spectacle, a strange mechanical device lands on a desolate world and uses the planet to undergo a startling transformation, that has profound implications for an entire galaxy.
Ow What!
Directed by Mike Jonathan
A 12-year-old boy living in a small rural community must take care of his little brother and sister but has dreams of one day representing New Zealand in the national sport of rugby, following in his father's footsteps.
Two Cars One Night
Directed by Taika Waititi
Youngsters Romeo, Ed, and Polly wait in two cars after dark while their parents are inside drinking. It's a situation many Kiwis would recognise: cars in loco parentis outside the bar or rugby club. Soon cross-car rivalry warms to budding friendship.
Butterfly
Directed by Renae Maihi
A young girl finds redemption and forgiveness in the legacy of dance and movement bequeathed to her by her ancestors.