THROUGH OUR LENS
FILMMAKING IN TE MOANANUI A KIWA
Māori connect with other peoples of the Pacific through a shared ancestor – Kiwa, hence 'Te Moananui a Kiwa – The great ocean of Kiwa'.
With support from UNESCO, MCT is taking 14 rangatahi Māori filmmakers to the Pacific in September, 2017. These young people are our filmmakers of the future and will travel to Rarotonga, Hawaii, Samoa and Tahiti to work with young people in each nation.
In late May 2017, the MCT put out a national call inviting youth aged 13 – 23 to apply to be a rangatahi film leader in the Pacific. To apply they were required to make a video introducing themselves and why they wanted to be chosen. Participants in the regional workshops were encouraged to apply. From the 31 applicants, 20 were selected to attend a selection workshop in Ōtaki.
The selection workshop was held over two days in July 2017 at the Māoriland Hub. Guest tutors included South Seas Film & Television Schools John Givins and Actor, Cohen Holloway. During this workshop, the rangatahi were given a number of challenges that asked them to demonstrate their ability to collaborate and lead each other. On the second day, they were asked to create a film in 3 hours to demonstrate how they would work under immense time pressure.
The aim of the project is to create new Māori film leaders who will connect and collaborate with their peers in the Pacific.
This will lead to the building of networks and future collaborations.
MEET THE RANGATAHI
ANA SCOTNEY
ACTOR/WRITER/CREATIVE

22 YEARS OLD
NGĀI TŪHOE

EXP: Toi Whakaari, Director – DANCE OF LONELY BIRDS, Actor – THE BREAKER UPPERER'S, DROP DOWN GLOBE, BELIEF: THE POSSESSION OF JANET MOSES

ARIAH KAPA
DIRECTOR/PRODUCER

19 YEARS OLD
TE AUPOURI

EXP: Director – MĀORITANGA

AWA PUNA
WRITER/DIRECTOR

18 YEARS OLD
NGĀTI KAHUNGNUNU

EXP: Writer, Director – Roxy 5 Supreme Award BLACK DOG, STATIC, ACCOMPANIED, PATHWAY

AYDRIANNAH TUIALI'I
DIRECTOR/PRODUCER

21 YEARS OLD
NGĀPUHI, NGĀTI HĀMOA

EXP: Director – NŌ ŌTAKI TE WAIRUA

BENJI TIMU
DIRECTOR/ CAMERA

23 YEARS OLD
KUKI AIRANI, SAMOA

EXP: EASTSIDE – UNTOLD, Director – DEAR LITTLE BROTHER, Actor – LIL SIS, SUNI-MAN

EVA HAKARAIA
DIRECTOR/ EDITOR

14 YEARS OLD
NGĀTI KAPUMANAWAWHITI, NGĀTI RAUKAWA, GERMAN

EXP: Director – Outlook for Someday DOC Award Winner I LOVE WAIORONGOMAI

KAEA HAKARAIA-HOSKING
DIRECTOR/ ACTOR

13 YEARS OLD
NGĀTI KAPUMANAWAWHITI,NGĀTI RAUKAWA

EXP: Presenter – Outlook For Someday Intermediate Award Winner KORO PUPPETEER, Director – HE TAONGA, WEHI

NIKAU WI NEERA
DIRECTOR/MUSICIAN

17 YEARS OLD
NGĀTI TOA RANGATIRA, NGĀTI RAUKAWA

EXP: Score for The Common Touch, Roxy 5 Best Original Score 2017 for SOCK MESS MONSTER, Roxy 5 Supreme Award BLACK DOG (score)

ORIWA HAKARAIA
DIRECTOR/ EDITOR

14 YEARS OLD
NGĀTI KAPUMANAWAWHITI, NGĀTI RAUKAWA

EXP: Director – Outlook For Someday Intermediate Award Winner KORO PUPPETEER, HE TAONGA, WHAT CAN YOU SEE?

PHILADELPHIA KINGSFORD-BROWN
DIRECTOR/ WRITER/CAMERA

16 YEARS OLD
NGĀTI POUTAMA, NGĀTI KAHUNGNUNU KI TE WAIRARAPA, TE ATI HAUNUI Ā PĀPĀRANGI

EXP: Director – MOTHERS ARE TREASURES, PUKEORA, Outlook For Someday Sustainability Award Winner – HARIKOA

SHAYE LEIGH WITEHIRA
EDITOR/ ACTOR

14 YEARS OLD
NGĀTI RAUKAWA, NGĀPUHI, TE ATIAWA

EXP: Director – MĀORITANGA

SONNY NGATAI
EDITOR/PRESENTER

21 YEARS OLD
NGĀTI RANGIWEWEHI, NGAITERANGI, NGĀTI WHATUA

EXP: Presenter – HAHANA, TUATANGATA LEVI, ASB Polyfest

TE MAHARA TAMEHANA
DIRECTOR/ CAMERA/ EDITOR

14 YEARS OLD
NGĀTI HINE, NGĀPUHI

EXP: Director – CONFLICTION, Camera – Lil Sis

TUTAAMURE NIKORA 

SOUND

15 YEARS OLD
TE WHĀNAU A APANUI

EXP: Director – NŌ ŌTAKI TE WAIRUA
The first task they were assigned as a collective was to fundraise $6,300 via Givealittle towards the cost of the trip. They were successful in this endeavour raising $7,140 in total.
The fourteen were then divided into four groups of three and four members with a balance of skills and ages to travel to Samoa, Hawai'i, Rarotonga, and Tahiti.
A three-day workshop was held in each location with a screening held on the final night.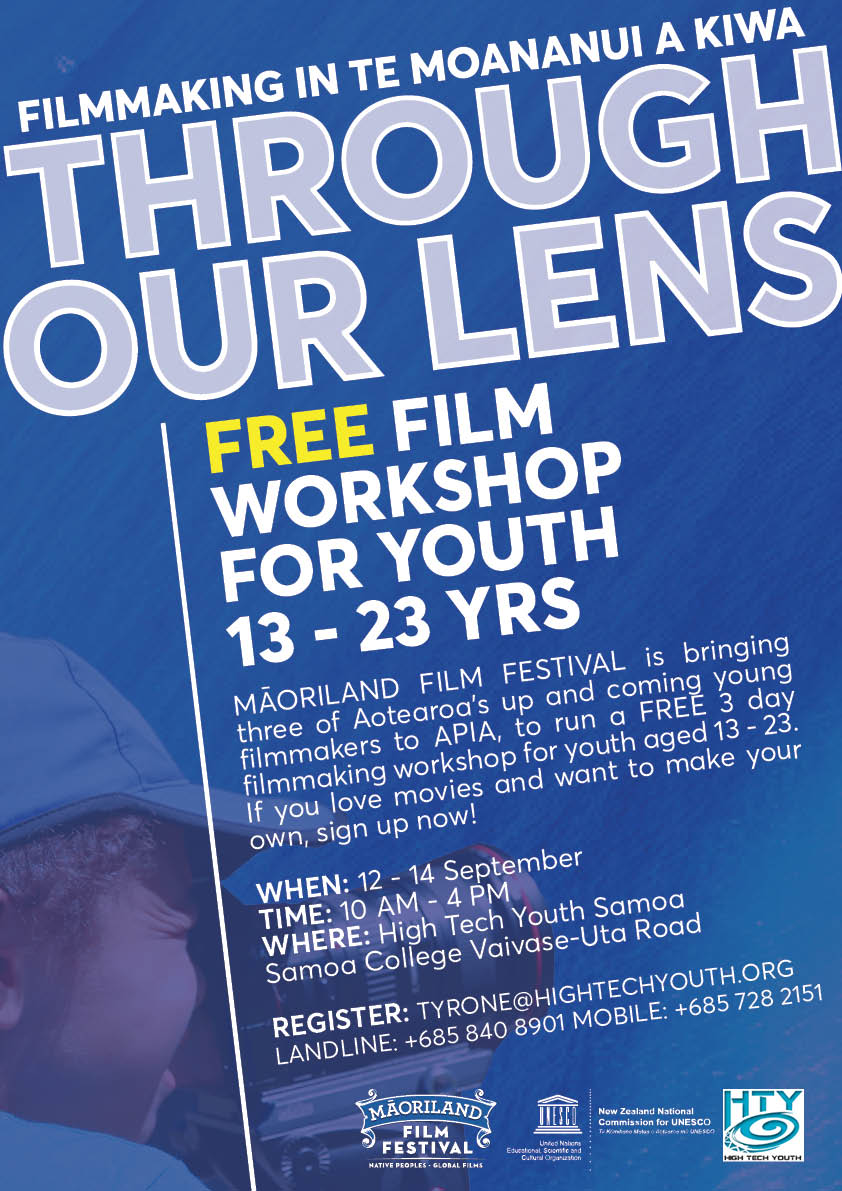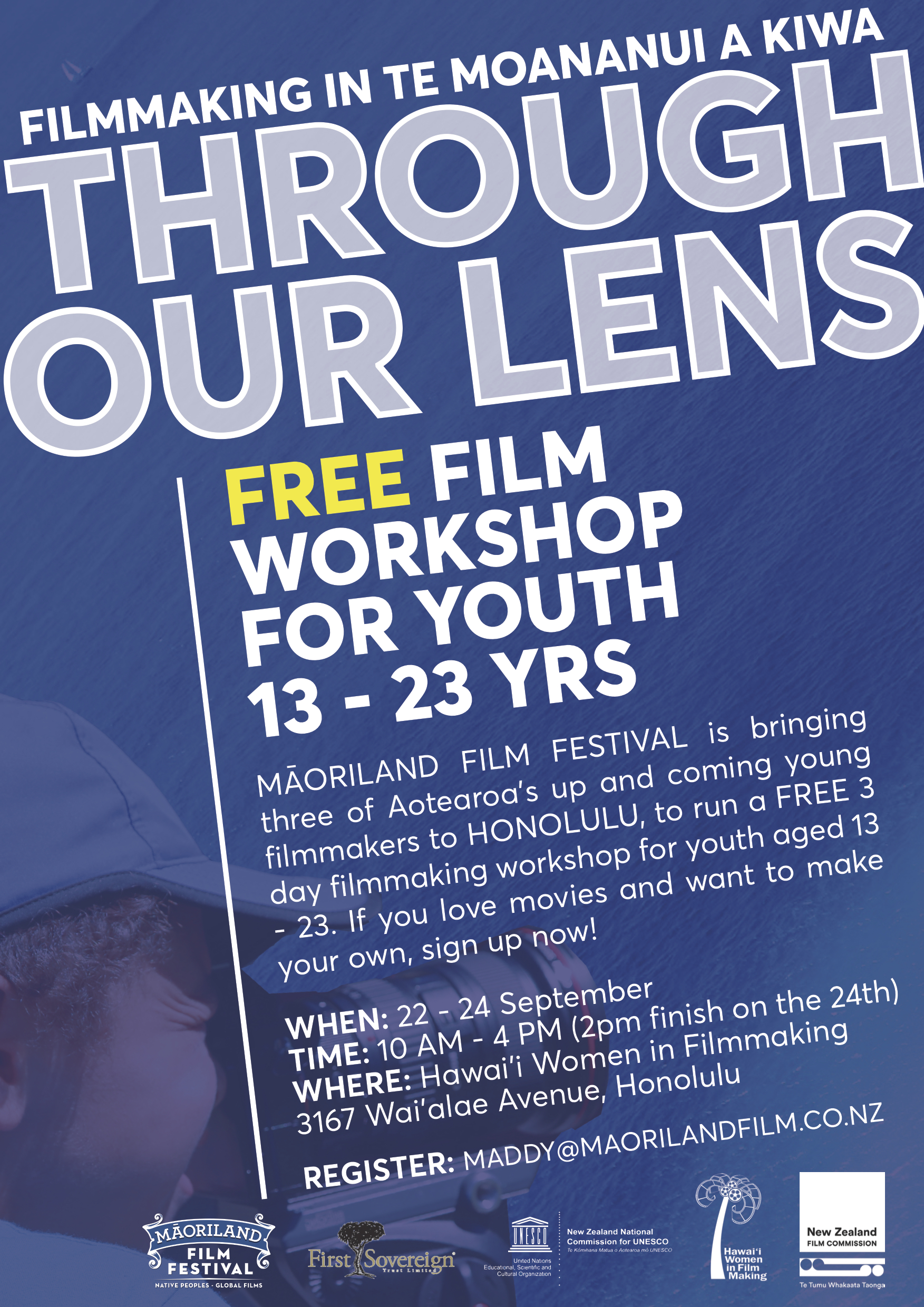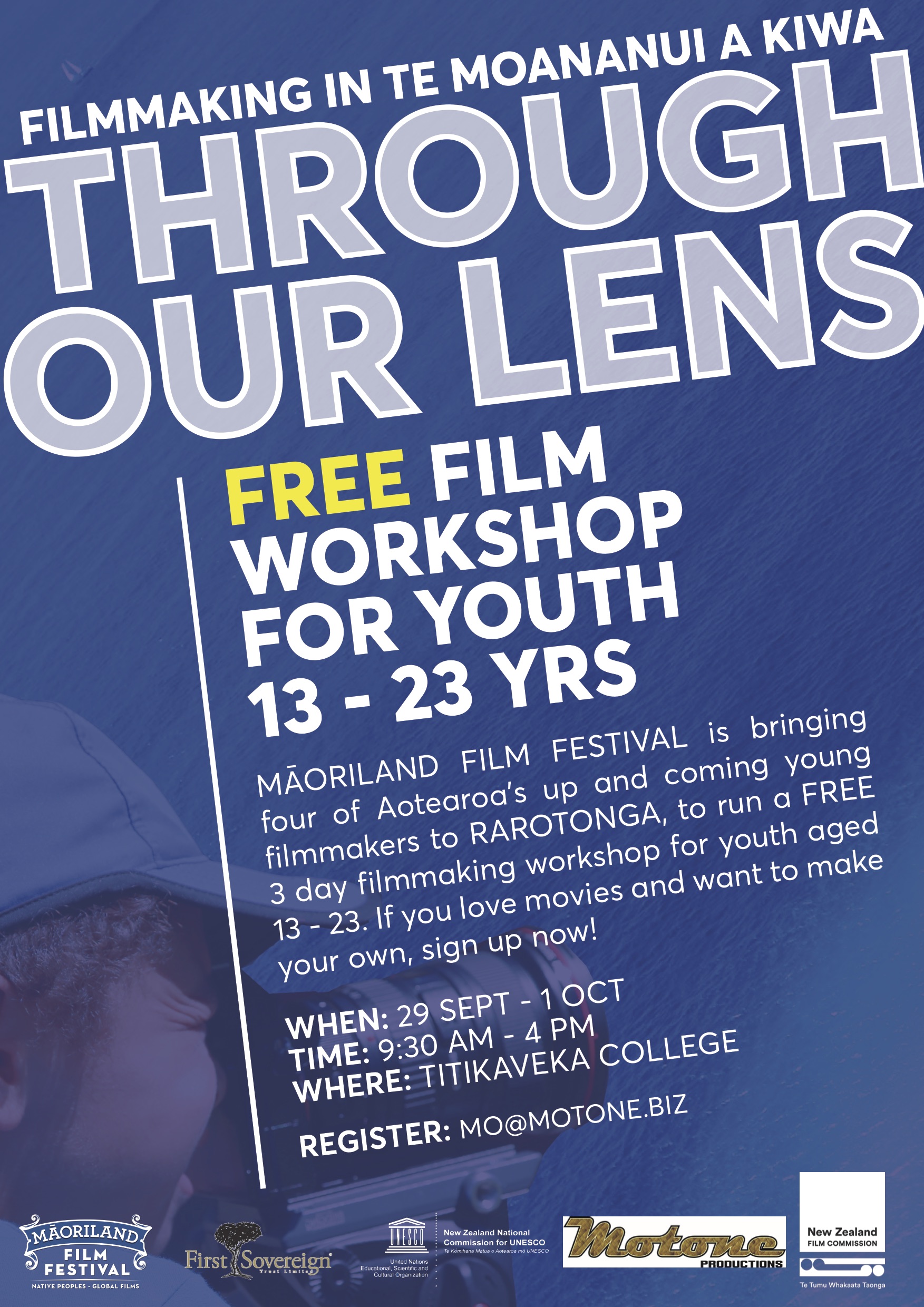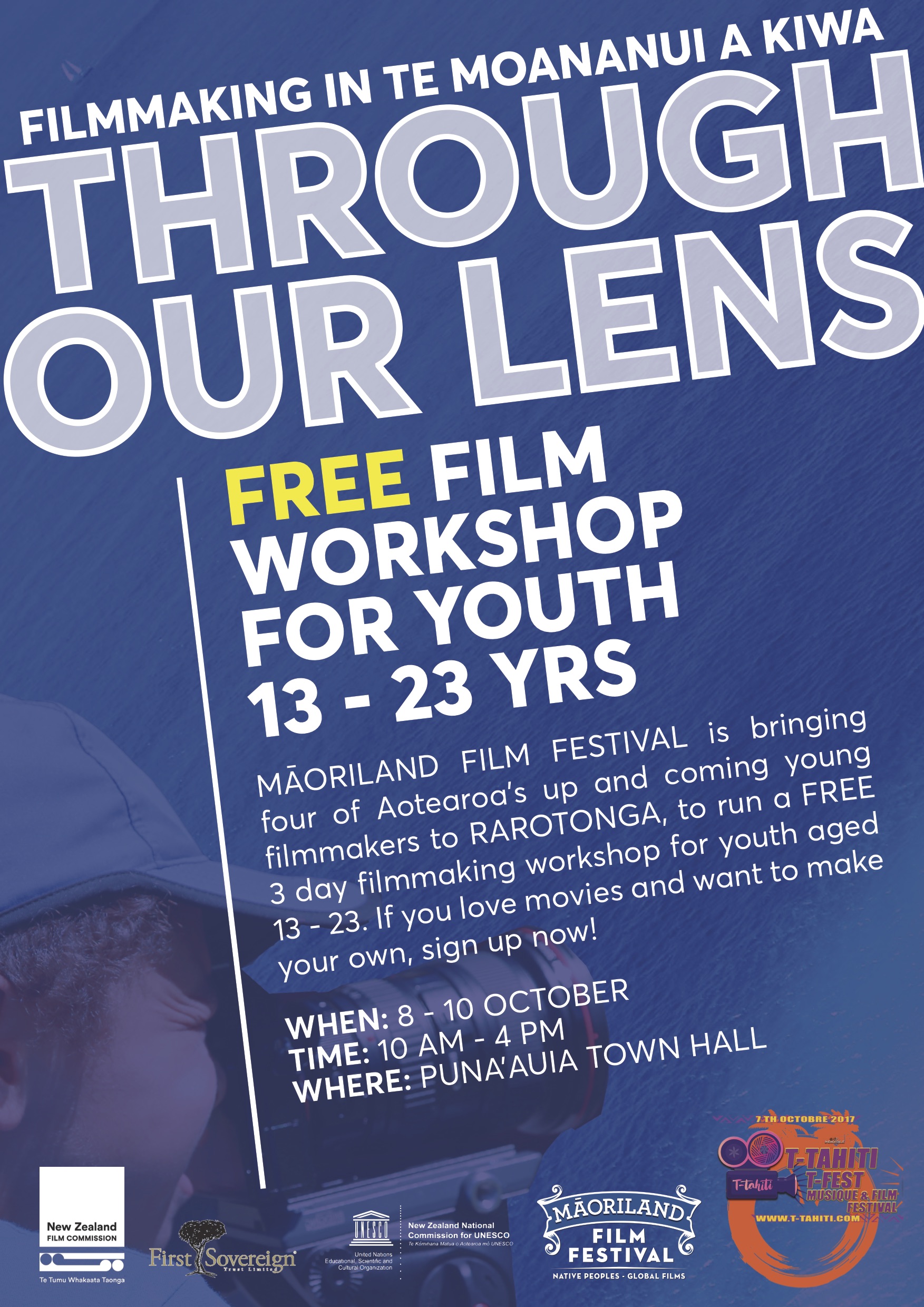 Workshop dates and locations
Samoa – September 12 – 14
High Tech Youth Apia (Screening was held at the National University of Samoa, Centre for Samoan Studies)
Hawai'i – September 22 – 24
Hawai'i Women in Filmmaking
Rarotonga – September 29 – 30, October 2
Titikaveka College (Screening was held at Club Raro)
Tahiti – October 8 – 10
Puna'auia Community Centre
Nine films were completed during Through Our Lens' Pasifika Workshops. They are now undergoing a final polish in New Zealand ahead of a premiere screening at Māoriland Film Festival in March 2018. Further to the creation of the 9 films, Through Our Lens has successfully grown Māoriland's network with other young filmmakers and organisations throughout the Pacific. There have already been requests to repeat the project in 2018. 
THANK YOU FOR ALL OF YOUR SUPPORT!
With your help we raised $7,140. Thank you to Alex Collins, Amey, Ann, Anne Salmond, Aunty Becs, Aunty Karyn, Aunty Trace & Uncle Rick, Caroline, CHARLIE, Dana, Daniel Northway-Frank, Dave Whitehead, Debi & Matiu Kapa, Defender Films, Dianne Romanos, Elaine Colquhoun, Emily, Geoff Lealand, Gina and Dee, Grace Mulvihill, Hahana Whanau, Haka Boy, Helen Hope, Ingrid Boberg, J Emery, Jack, Jacki Key, Jane Hakaraia and Family, Jennifer Ward-Lealand, Jenny, Jess Bryan, John Allsopp, Jude Isaac, Kaeas Kaitautoko, Katy Wood, Kite, Lake92, Liam Maguren, Lynell Huria, Matthews Family, Monique Redmond, Ms Jahama, Ms Riley, Multinesia, Ngaire, Otaki Mail, Ozzy Osbourne, Penny Hagen, Philly <3, Pip & Waka, PiripiM, Pocklington, Raewyn, Renee, Renee's Poetry Group, RO, Ronny and Hayley, Sandy Brimblecombe, Sylvia, Tainui Stephens, Tamehana Whanau O Pekerau Tautoko, Te Kawa Robb, Thomas Zepackic, Witehira Whānau.
Since 2014, Māoriland has worked with young people across Aotearoa, providing filmmaking workshops in remote and rural communities with the support of E Tū Whānau. Through Our Lens builds on this work by providing an opportunity for talented youth to become involved in indigenous filmmaking networks across the Pacific, te Moananui a Kiwa.
About Māoriland Charitable Trust
Māoriland Charitable Trust (CC53677) was established in 2016 to support the work of the Māoriland Film Festival. Its purpose is to improve the social, economic and educational opportunities to people in Aotearoa by means of screening Indigenous films and organising activities such as filmmaking workshops.
Supported By