Summer's end in the Māoriland Maara
Willow Weaving
Our willow fence line is establishing and beautifies the dilapidated tin fence, but this willow does need attention and weaving while it is still supple to develop its shape. This is a creative and somewhat meditative opportunity to enhance a living breathing fence line. I welcome anyone who wants to spend time plaiting and weaving, thereby shaping the creation and saving it from becoming a shaggy wild beast of a thing!
Just to the front of the willow fence line, meadow flowers are interspersed with incredibly healthy,  huge rocket for salads or pesto (too good!). This meadow is surrounded by vegetables. I found my seeds liked being protected from the heat and the birds by a layer of damp cloth over summer.
In the Māoriland Hub maara an interesting social experiment is taking place… All of the Māoriland kaimahi (staff) have in pairs been given responsibility for a maara bed. It is interesting to watch the varied responses…diligence…interest…enthusiasm…avoidance! I am watching this process and figuring out how to best support our kaimahi. I think the seedlings we are growing, (leeks, zucchinis, lettuce, onions, spring onions) may help. The summer crops are starting to fade and space will be made for new season's kai to continue to grow. Our Māoriland kaimahi and whānau are harvesting as they wish, the tomatoes are always the fastest to go!
At Māoriland our maara is a place to grow our culture and connection through practical acts of waste minimisation, composting, developing soil and in that soil growing kai. This connects us to the whenua, community, and each other. Developing our mahi maara culture requires us to divert our attention from the everyday onslaught. To slow down and tend to Papatūānuku. The happy result of this process, ie. getting our hands in the dirt, is contact with mycobacterium vaccae, a natural bacteria present in soil that has antidepressant effects, which increases serotonin in the prefrontal cortex. This feel-good response has no negative side effects. Haere ki te maara! Get into your gardens!
Free Range Fridays
Charlie Budd & I have been engaging in the mahi maara on Friday mornings from 10.00am to 12.00pm midday. We would welcome any others who would like to get their hands in the soil with us. We are developing a new vegetable bed in the paddock, on the east, alongside and amongst the existing fence line planting. Here's Charlie with a few potatoes he harvested and took home to share with the flatmates! We are planning to develop a Mandala garden where our beautiful meadow flowers currently reside, come and join the mahi!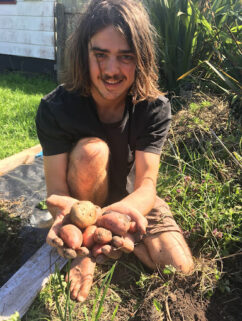 Community Composting Service
For those of you who live locally and are not composting, I have recently met Caroline Michael. We are looking towards partnering to create an affordable 'pay for' service enabling households to divert kitchen waste from landfills and contribute to soil production. It would be great to hear from anyone interested in this service as we gauge viability.
Kai for whānau isolating
Tania and I have been using resources from Kaibosh for food preparation for Māoriland whānau and friends in isolation. I would also like to acknowledge the generosity of both of our local supermarkets New World and Countdown in supporting Māoriland. As this Omicron virus spreads many people within our community are looking to help whānau and friends too, everybody knows five people right? When you have finished gardening, get to your kitchens, make kai, and do contactless deliveries! We have kai from kaibosh available, come pick some up outside Toi Matarau Gallery after midday on a Tuesday. Mahi tahi working in collaboration.
 Ehara taku toa i te toa takitahi, he toa takitini, 
My strength is not mine alone but as a collective
Ngā mihi, Elishka