Māoriland Film Festival is an international festival that celebrates Indigenous voices and storytelling in film. Each March, Māoriland presents a selection of the most distinctive Indigenous works from around the globe. Hosted in Ōtaki, New Zealand, Māoriland is inspired by the mauri of its location. Ōtaki has a strong Māori identity with extensive Māori education facilities. At Māoriland we believe in the vitality of indigenous knowledge and the power of being able to communicate Indigenous perspectives in Indigenous terms. The works presented at Māoriland are a showcase of the immense wealth of Indigenous creative talents, demonstrating the unique and diverse perspectives of Indigenous people the world over.
THE LEGACY OF MĀORILAND FILMS
In the early 1920s Australian company Federated Feature Films Ltd proposed a New Zealand branch to produce feature films. A Mr Frank Moore visited on their behalf and suggested Otaki as a suitable place to establish a studio because of the town's varied scenery and "potent actinic rays" (white light). The New Zealand Moving Picture Company (Māoriland Films) was established.
In the six short months it survived, the company made three films: OTAKI GORGE BULLER LAKE, OTAKI MAORI LIFE; HISTORIC OTAKI, and CHARLIE'S CAPERS (a comedy starring a Charlie Chaplin impersonator).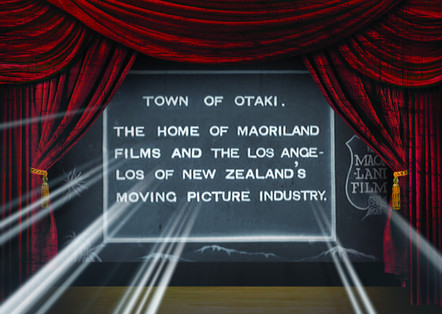 THE VISION FOR MĀORILAND FILM FESTIVAL
We intend to do for Otaki, what Robert Redford did for Park City, Utah. Every year Park City's population of about 6,500 swells to 40,000 as filmmakers, the film industry and fans view movies from every corner of the planet at the SUNDANCE FESTIVAL. Careers have been launched at SUNDANCE (including that of Aotearoa's Taika Waititi). SUNDANCE also runs filmmaking training programmes called Labs. These Labs have helped bring many films to the screen, including WHALERIDER and BOY. SUNDANCE is the preeminent independent film festival in the world.
MĀORILAND FILM FESTIVAL has truly unique screening venues; Raukawa Marae, historic Rangiatea Church, the 1940's art deco theatre the Civic and the large venue of Ngā Purapura.
The dream for Otaki to be 'The Los Angelos (sp) of New Zealand's moving picture industry' was fleeting. Due to the lack of support facilities for film in New Zealand at that time. Now nearly one hundred years later a new dream will be realised.
STAY IN THE LOOP
SIGN UP TO OUR MAILING LIST